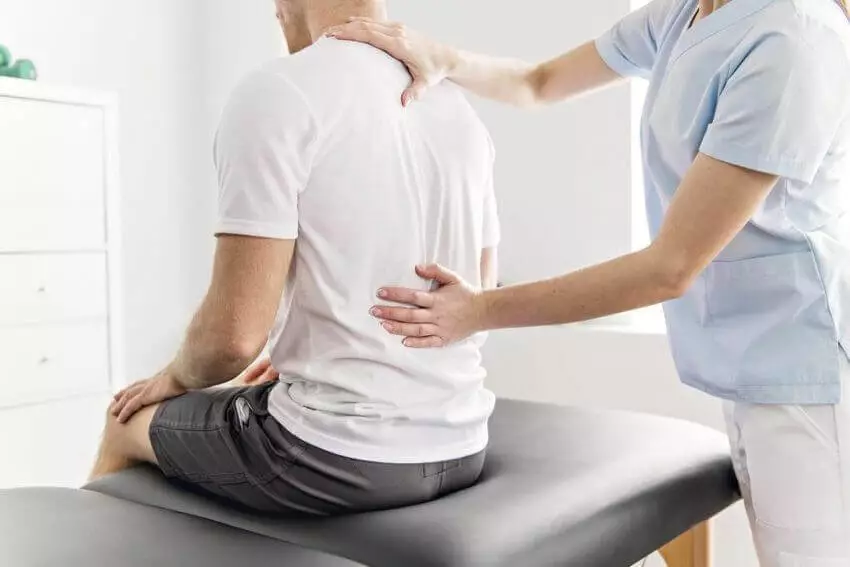 Best Physiotherapy Clinic in Bangalore - Healing Hands Advanced Physiotherapy Clinic
Physiotherapy Near Me
World-Class Physiotherapy Treatment Near You
from Experienced Physiotherapists
Get world-class Physiotherapy Treatment From experienced Physiotherapists
Looking for physiotherapy near you ?? Healing Hands provides Certified & Experienced Physiotherapist near you best suited for your treatment.
Faster recovery and lasting results.
Healing Hands Advanced Physiotherapy Clinic is one of the leading and best physiotherapy clinic in Bangalore. We provide World–class Physical Therapy services at an affordable cost to make the world healthy and pain free. Our team of physiotherapists uses the most advanced and updated healing technologies to cure your pain, quickly and effectively. We completely assess and treat the entire root factors related with your issue. This includes, but is not limited to, your work and home stressors, overall body condition, nourishment, hereditary and postural habits and patterns that are held in your muscles. So if you are looking for a highly experienced and certified physiotherapist near you then your search ends here.
Our Approach
Book Appointment
Select the branch location for which you want to make an appointment. Now select the date, time and fill up your name, phone and e-mail. That's it, you just booked an appointment. You can also call us at 8884447808 for more information.
NEARBY CLINICS
Healing Hands Advanced Physiotherapy Clinic has licensed & trained physiotherapists across multiple branches in Bangalore to ensure you receive world-class physio care from our physical therapists nearby. We use most advanced technology and treatment options available in the field currently, coupled with skilled manual therapy to ensure that you get access to the best care in clinic near you.
Therapies
Our Physiotherapists empower our client by providing them the best solution and by educating the client about their present conditions and how the particular therapy is help them achieving the goal. We set the goals based on our client's needs and their overall condition.
Dry Needling Therapy
Cupping Therapy
Kinesio Taping
Manual Therapy
Therapeutic Exercise
Electrotherapy Modalities
Therapeutic Ultrasound
Cold Laser Therapy
PEMF Therapy
Book Now
Services
We provide wide range of Therapies and Treatments. You will be under good hands because all physiotherapists of our clinic are highly trained, experienced and certified.
Orthopedic / Musculoskeletal Physiotherapy
Pediatric Physiotherapy
Sports Physiotherapy
Geriatric physiotherapy
Pain Management
Neurological Physiotherapy
Balance and Coordination Training
Strength & Conditioning
Ergonomics & Posture Correction
Pre & Post Surgical Rehabilitation
Physiotherapy at Home
Book Now
Patient Testimonials
One of the best physiotherapy clinics. My dad has osteoarthritis, he wasn't able to walk properly or stand, within 20 days of physiotherapy at healing hands the pain was reduced to almost 60-70%. At Healing Hands Advanced Physiotherapy Clinic Dr.Vinayak Jyoti and his team interacts with the patient in a very polite manner and explains every single detail so that the patient feels comfortable and relaxed.
Shueb Adnan
I am an IT professional and I was suffering from recurrent back pain from many years. Dr. Vinayak treated me with advanced dry needling therapy and it's really very effective. After few sessions my pain vanished completely. He gave me a set of therapeutic exercises, and changed my sitting posture. Best part is he give lots of time to analyze the problem and then help with the treatment so that you can get rid of it completely.
Vivek Kumar
First visit impressions and every visit interaction have been excellent. Dr Vinayak's analysis of the problem and Dr Maaz's treatment are excellent. I felt relief and ease in just 3 sittings in the healing hands of Dr Maaz. My wife who is now undergoing treatment for severe knee pain is feeling much better in just 5 sittings. Great job by the team. Place is neat clean and hygienic. Kudos to the team of Dr Vinayak Jyoti.
Krishnamurthy R
I was suffering from severe back pain but after visiting Healing Hands Advanced Physiotherapy Clinic l am totally alright. All the doctors are so friendly and helpful. Excellent treatment. About Dr. Vinayak Jyoti, he is a great and awesome doctor and a human being I ever met. I am extremely happy and and satisfied with their treatment. l highly recommend this place for everyone. Thank you so much Dr. Vinayak.
Jyoti Bhaskar
Slide 1
Consult a Certified Physiotherapist
Our main priority is injury assessment/diagnosis and appropriate management. Whether knee pain, back pain, sports related injuries or limitation of movement from joint pain. We will make your pain go away. For more information you can call us at 8884447808 .